Hello one and all...which if my math is still accurate makes a total of 4 of you who still read this waste of space.
First I want to thank youl for being patient with me, the last 3 1/2 months have not been easy ones.
I know I've always been pretty open about my life on here, but there are somethings, that at this time, I can't talk about.
But as we all know, that could very well change by tomorrow.
Now with that said...
Getting back in the habit of writing is taking more getting used to than I thought. I know I've gone longer without writing anything, but this time, it's like the writing wind has been knocked out of me, and I'm trying like hell to break through that wall.
Until I finally get past that mental block, here's some random brain droppings for you enjoyment...
WEDNESDAY OCT 14TH
5:00 PM - UPDATE
I'm sitting here achey, sore throat, worn down and can't sleep...It's like a hangover...but without the fun BUT all the memories remain. Sadly all the things I either remember or forget have no outside influence...unless that selective amnesia kicks in again...now where was I?
6:00 PM - UPDATE
The Expendables movie
will either be awesomeness that makes you sterile or an epic fail of "Waterworld" proportions, either way I'm stoked
(author's note - and there are going to be people who don't get that at all...and that makes me pouty)
VIDEO - CHILDREN'S STORY
This is a video inspired by the Tom Waits track "Children's Story" on his "Orphans" CD. The soundtrack is from the CD, and the artwork and editing was done by Matt Rosemier.
CHRISTMAS GIFT IDEAS
Do you remember that scene in 'THE EMPIRE STRIKES BACK' where Han Solo uses the lightsaber to cut open the taun-taun's belly to keep Luke Skywalker from freezing to death?

NOW YOU TOO CAN RELIVE THAT MOMENT WITH YOUR VERY OWN

Tauntaun Sleeping Bag (click on the pic for purchasing information)

- Take a tip from Luke Skywalker and survive the frigid surface of Hoth inside this classic Star Wars collectable sleeping bag.
available at ThinkGeek.com
http://www.thinkgeek.com/geektoys/plush/bb2e/

Does your child want to be a bad-ass?

Are they between the ages of 5 and 11?

Do you have a dream to see them work at a tattoo parlor? Then here's a gift for you...

THE i-TATTOO
available at WAL-MART
http://www.walmart.com/catalog/product.do?product_id=5557285
UPDATE -
If terrorists, were pop culture icons instead of...umm...(well you know what I was gonna say), would they have cool names like AL KAY-DAWG??
AWESOME QUOTE by
Warren Ellis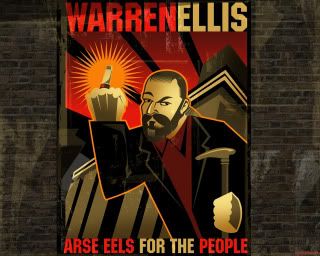 His thoughts on Facebook
- All right. I give up. Friend requests are piling up regardless of having tried to turn this into a zombie account and I'm getting bugged in email. There is no escape from Facebook. So: I will approve any and all friend requests, whether you're human or not, and I will simply trust you to help me break Facebook and give it the pain it deserves. Otherwise, I can be found at http://www.warrenellis.com